Top 5 Things To Do in Orange Beach Alabama
Posted on September 18, 2013
Tags: orange beach al
Top 5 Things To Do In Orange Beach Alabama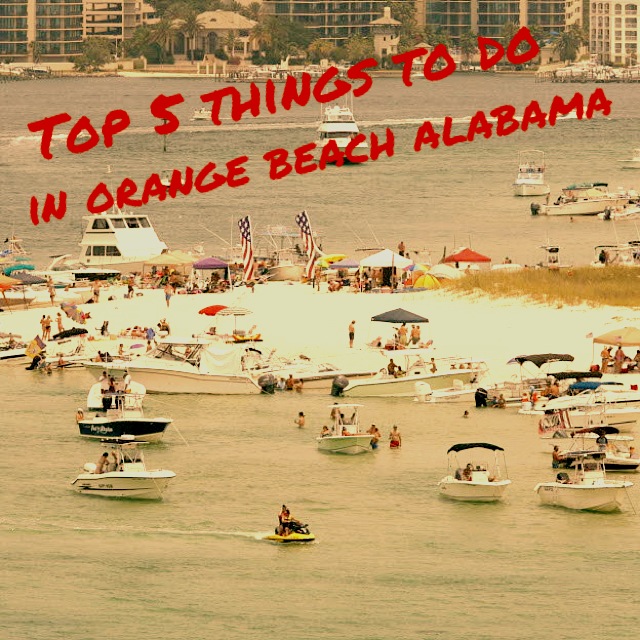 As Orange Beach Alabama vacation property managers, we often get asked what are our top suggestions for things to do in Orange Beach Al. While the options are endless, we have put together our top 5 list of things to do while vacationing in Orange Beach Al.
1-  Take a Deep-sea fishing trip: Deep-sea fishing is a favorite pastime of Orange Beach Al locals and vacationers. Orange Beach has easy access to the Gulf through the pass, thus Orange Beach is home to several charter companies and marinas. Red snapper season is short and changes every year, so be sure to check the dates for snapper season before you book your Orange Beach rental. Of course you can always fish for other types of fish or catch and release, but snapper season is one of the best times to go deep sea-fishing in Orange Beach Al.
2- Rent a boat : One of the benefits of vacationing in Orange Beach is that the back water-ways offer another way to experience the beach. There are a slew of islands where you can lay your anchor for the day such as Robinson's Island. Also, there are restaurants and bars that welcome boaters such as Flora-Bama's yacht club, Pirates Cove, and Sunset Grill.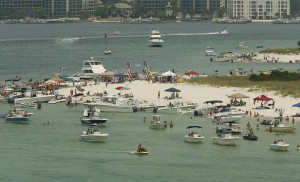 3- Go Shopping : Orange Beach is home to the Wharf where there are several stores for the shopping enthusiast. The Wharf has everything from high-end women's clothing stores to air-brush t-shirts. For those of you who love a good deal, the Foley Tanger outlet malls are approximately 20 minutes from Orange Beach Alabama. We also encourage Orange Beach visitors to take the 45 minute drive to the quaint town of Fairhope Alabama where you will find tons of shopping, including many antique stores.
4-Go to an Outdoor Concert : Orange Beach is also home to the newly built Wharf shopping center and outdoor amphitheatre. If you time your Orange Beach vacation appropriately, you can enjoy an outdoor concert by one of your favorite bands such as Kenny Chesney or The Zack Brown Band to name a few. The Wharf also hosts bill fishing tournaments, boat shows and other annual events.
5-Visit the Flora-Bama And Have A Bushwacker : One cannot leave Orange Beach Alabama without standing on the Alabama-Florida line at the famous Flora-Bama bar and restaurant. If you don't love crowds or want to take kids, we recommend visiting the beach-front bar during the daytime. Also, you cannot leave Orange Beach Al without sampling a bushwacker. Hey, even Obama could not resist trying a bushwacker while he was in Orange Beach Al!