Meet Our Agents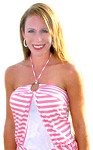 Tamala Prickett
My name is Tamala Prickett and I am a the qualifying broker and co-owner, along with Daniel Prickett, of Prickett Properties LLC. After several years of marriage and 2 children, Daniel and I made a career path change to follow our mutual passion of real estate.
I have an B.S. in accounting from the University of South Alabama and a J.D. from the University of Alabama School of Law. I graduated in the top 10% of my class at the University of Alabama School of Law, while maintaining a position on law review. I currently maintain an active license in law.
As an owner of Prickett Properties, LLC, I manage all aspects of our real estate firm. Prickett Properties, LLC is a full service real estate company whose portfolio includes representation for real estate sales, vacation rental property management, and construction.
Daniel and I are hands on real estate consultants that have personal experience in all of these areas. We are on the cutting edge of internet marketing and vacation rental property management.
While running our successful real estate firm, Daniel and I have devoted our personal time as board members for several condo home owner associations in Orange Beach and Gulf Shores Alabama. These condo board associations have added to our knowledge base as property managers and real estate sales persons of the unique market in Gulf Shores and Orange Beach Alabama.
I hope that you will give Prickett Properties the opportunity to consult you on your next real estate venture in along the Alabama Gulf Coast.
I have included some personal references below.
"I have served with Tamala on a Home Owners Association board. Her dedication to serve those homeowners was remarkable. She spent hours reseaching condo laws and putting a new board going in a right direction. She's is dedicated and trustworthy. You could always depend on her when problems came up. I used Daniel & Tamala's real estate business this year to purchase a condo, in which I was greatly satisfied." December 19, 2008
Top qualities: Great Results , High Integrity , Creative
Judy ONeal
"I have worked with Tamala on several transactions and she has proven to be an invaluable asset. She has the knowledge and skills necessary to assist her clients in a timely and efficient manner. Tamala has a strong focus on the bottom line and customer service."
December 5, 2008
Eddy Diaz , Owner , Accountant worked with Tamala at Prickett Properties LLC
"Tamala is a very resourceful, smart and hard working real estate professional that is proficient in her work that includes real estate sales, consulting and rental management. Also being an attorney it gives us the added confidence that her work will be done with precision and accuracy. Highly recommended to anyone needing her services."
Tom Rodgers -Covington, LA December 4, 2008
Top qualities: Great Results , Expert , High Integrity
Tom Rodgers hired Tamala as a Real Estate Agent in 2006 , and hired Tamala more than once
---

Daniel Prickett
My name is Daniel Prickett, and I am a licensed real estate agent, licensed home builder and co-owner of Prickett Properties, LLC.
I have a business degree in Finance from the University of South Alabama. I worked my way through college by starting a landscaping company that I continued to operate for several years after graduation. Then, I decided to pursue my passion in real estate by devoting myself full-time to the Gulf Shores and Orange Beach real estate market. Soon after, Tamala and I founded Prickett Properties LLC.
Not only do I sell real estate and maintain the position of President for our successful vacation property management company, I am also a licensed home builder who constructs vacation and investment homes for our clients. I have constructed and remodeled vacation beach homes and duplexes.
Through my experience as a vacation rental property manager, I know what floor plans are "rent able" and provide the best cash flow. If you are interested in turning an Gulf Shores or Orange Beach lot into a cash-producing property, I will be happy to discuss your project with you further.
Prickett Properties, LLC is a full-service real estate company that provides personalized service by focusing on quality relationships that are mutually beneficial.
You can contact me at 251-209-0074