Gulf Shores and Orange Beach Property Management
Prickett Properties LLC is a "boutique-style" Gulf Shores and Orange Beach property management company that also manages property in Perdido Key Florida. Prickett Properties's mission is to offer personalized and superior property management services for owners and guests.
Daniel and Tamala Prickett, owners of Prickett Properties, thoroughly understand the needs of the Owner as well as the guest through their experiences as owners and renters themselves. The Prickett's bring a hands-on approach to vacation property management, which is often missing in the current Gulf Shores and Orange Beach vacation rental market.
Daniel and Tamala would love the opportunity to tell you how they became Gulf Shores and Orange Beach vacation rental property managers.
Tamala started her career as an attorney, and Daniel started his career as an owner of a landscape firm. Daniel worked his way through college, earning a degree in finance, with his landscaping company that he later sold to pursue Prickett Properties. While these experiences enhanced their ability to efficiently run a vacation property management company, their passion for their own Orange Beach & Gulf Shores vacation rental investments took their lives on a different path (unbeknownst to them at the time).
The Pricketts found so much enjoyment and passion in renting their own Gulf Shores and Orange Beach vacation properties that the business literally " found them." The Pricketts did not even think of renting other vacation property owners properties. Nonetheless, real estate clients and personal friends started to request their property management services in Orange Beach and Gulf Shores. The Pricketts started renting other vacation owner's properties with the thought that it would be just something they did for one or two people to help pay for their condo dues. No kidding! Gradually, the word spread, and so did their Gulf Shores and Orange Beach property management business.
Daniel and Tamala still have the same passion for what they do today than the day they took their first client. To this day, Daniel enthusiastically answers rental calls, emails, and checks on the properties. Meanwhile, Tamala continues to plug away at her magic on multiple websites, internet, and marketing.
They have been married for 20 years and have three beautiful children that will no doubt hate the vacation rental business. LOL. We hope not, and we involve them daily in our family business, but we are fully aware that they may have different passions in life. Evelyn, their oldest child, is passionate about producing videos with drone footage. She has created all of our drone videos on the website. Evelyn leaves for Texas Christian University in the Fall of 2020. Everyone hopes she brings her multiple talents back to Prickett Properties.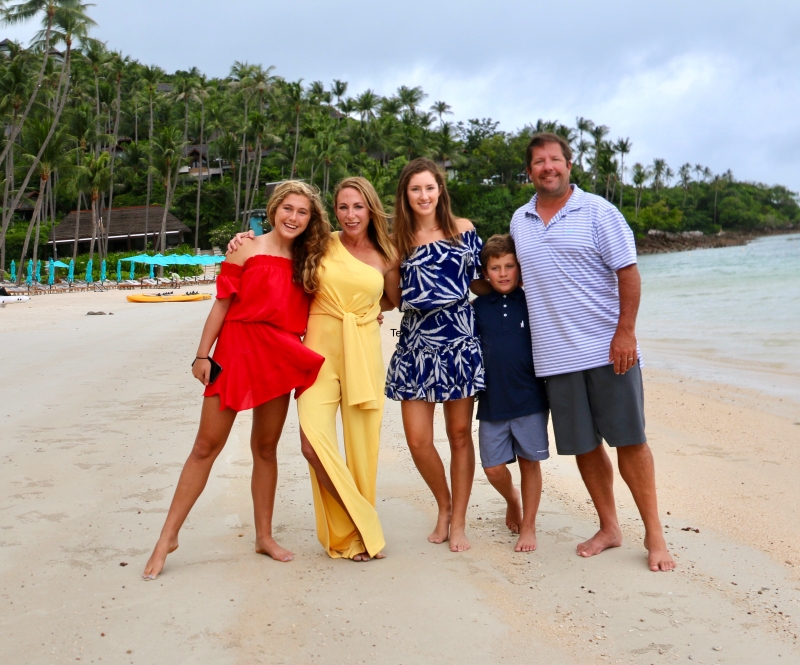 The Pricketts have a bigger team today than they did when they started, but they will never be too big to be personally involved in the day to day operations and owner relations. That is what sets Prickett Properties apart from the other companies you will find in Orange Beach and Gulf Shores. There are not many Orange Beach Al property management companies that you can call the Owner's cell phone anytime you have a question or concern.
Prickett Properties has focused on combining boutique-style service with big business marketing. Our Gulf Shores and Orange Beach vacation rental company uses the best and most current online marketing techniques to ensure that the property is getting the most exposure to potential guests. We not only want to give you exceptional and personalized service, but we want to provide you with the most income your property is capable of generating! Prickett Properties understands the importance of maximizing your rental income, and they also know how to deliver results along with realizing this is your home.
Below are some reasons why you should choose Prickett Properties LLC to manage your vacation property in Orange Beach and Gulf Shores Al:
Personalized service

Each Owner is assigned a direct company contact to ensure we meet every need of the Owner.
If you have a concern, then we will promptly respond to make sure your property is well taken care of, and you have peace of mind!

Maintenance and Care for your Property

24-hour maintenance staff on-call to handle all maintenance emergencies.
Affordable and reliable maintenance. We promise to keep your property in good condition while keeping the maintenance costs reasonable and fair.
Additionally, we offer non-routine maintenance and construction repair services at competitive rates. Our company has developed strong relationships with qualified and reputable sub-contractors through our history in construction. We work closely with the Owners to provide the best and most competitively priced construction and repair services.
Hurricane preparedness services are available for your property to ensure that your investment is safe.

Professional, Clean and Conscious Housekeeping

The professional house-keeping staff is held to a high-quality cleaning standard with a quality control inspection after every clean. Linen supplies and services are available to the guests at no additional charge to owners
If the Owner or Guest is ever dissatisfied with the cleanliness of the property, our staff will promptly return to satisfy the needs of our clientele.

Maximizing Owners Return On Investment

We utilize the latest internet and traditional marketing techniques and rate structures designed to maximize gross rentals.
Our company provides the owner internet and print publication marketing exposure otherwise not economically feasible for owners who rent for themselves.
We research current market conditions, school holidays, concerts, and other local events along with previous rental history to determine when promotional rates should or should not be offered to maximize the owners return on investment.
Unlike for rent by owners, it is our full-time job to answer all potential guest inquiries promptly. While you are making money for your family, we are also making money for your family!
We host a state of the art website at www.PrickettProperties.com with 24-hour online booking, updated promotions, online chat, video blogs, and more! We also host several other "sister" websites to generate additional inquiries for your property! We currently have 20 sites and growing! We are obsessed with having the best internet exposure for our vacation rental properties. It is our job to make sure your property is seen!
Our company accepts all major credit cards for the convenience of the guests and security against accidental damages at no additional cost to the Owner. Our company pays all credit card fees, which would otherwise be a high cost to the Owner.
Lastly, and most importantly, don't be fooled by "low percentage" contracts with hidden fees. We will match any "low percentage" contract because it will make us more money due to the nickel and dime fees. We strive to make our property management deal clear and concise with no hidden "gotchas."
At Prickett Properties LLC, we know that our Owners are busy with their careers and families. Our company offers Owners the best possible return on their investment with the peace of mind that their property is being well taken care of by our team of professional property managers.
We want to partner with you to make your property make the best possible return on your investment while taking care of your vacation property as if it were our own.
Stop by our office at 4098 Orange Beach Blvd any time to discuss how we can partner with you
Daniel and Tamala Prickett
251-209-0074
(Yes, this is really our cell phone!)