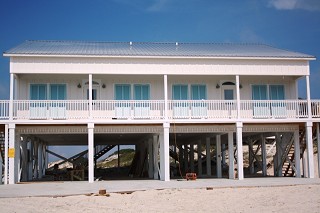 Sandy Feat is a Fort Morgan Beach House Rental located in the Dunes. Sandy Feat is a 4 bedroom 3 bath beach home (per side) and convertible into a large 8 bedroom 6 bath home by a six foot opening between the living areas. Sandy Feat is beachside meaning there is no major road to cross to get to the beach.

The beach and community pool are within a short walk and there are no highways to cross. Sandy Feat has a basketball goal and wireless internet.

This home is a lot like "Four Fun" beach home. Sandy Feat is located within the Dunes Subdivision, near the Fort Morgan Marina and the Fort. The views are fabulous from the porches!

(*From May 25th-August 9th, Labor Day, and other Holiday weeks, we only offer the entire house for rent..North & South)

Enjoy a private golf cart for the low cost of $225/ week or $50/ day. Subject to availability. Please include your request in the comments section when making the reservation. If available, we will add the amount for the days requested to your balance.